updates
2/26/2022 - Mental health has delayed my site but I am feeling better.
I have been trying to break the habit of 'doomscrolling'. It is causing me endless stress and ruining my attention span!
I am distracting myself with: my lesbian mermaid married couple on Sims 4, Ted Chiang short stories, running at the gym (my NY resolution is going pretty well) and playing the Pokemon Gaia romhack on GBA SP.
The world is a mess but I am thankful to have my little family, a warm home, and a full fridge.
Pray for Ukraine

12/3/2021 - Thanksgiving was full of food and love. Ready for Christmas. Setting up the tree tonight with my love. Maybe Xmas cheer will cure my seasonal depression.

11/19/2021 - Birthday week has been fun! My fiance got me japanese stationary; kitty cat pens and a cute notebook. Been eating my weight in Ethiopian and Middle Eastern food. Feeling very loved!

11/13/2021 - All site links now work!

11/13/2021 - Massive site update. Links are broken. Under construction for the month of November. My birthday is this month!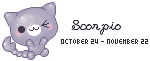 11/12/2021 - Thank you REPTH Themes for the template.